Triple Horn ® Saddles
Cutting, Working Cowhorse
Triple Horn® Sättel werden nur aus den besten Materialien handgefertigt.
Das rein pflanzlich gegerbte Leder von ausgesuchten Rinderhäuten.
Es erhält seine natürlich goldbraune Farbe nur durch das Ölen mit Neatsfoot Oil und das spätere handfinishing.
Wir verwenden ausschließlich Holzbäume mit 16 oz Fiberglasverstärkung, exclusiv für uns angefertigt.
Sämtliche Beschläge der Sättel sind aus Edelstahl.
***
Triple Horn® Saddles are handcrafted only from the best materials.
The purely vegetable-tanned leather of selected bovine skins.
It gets its natural golden brown color only by oiling with Neatsfoot Oil and handfinishing.
We only use wooden trees with 16 oz. Fiberglass reinforced, exclusively made for us with
All fittings of the saddles are made of stainless steel.
***
Las sillas de montar Triple Horn® están hechas a mano solo con los mejores materiales.
El cuero puramente curtido vegetal de pieles bovinas seleccionadas.
Obtiene su color marrón dorado natural solo al engrasar con aceite Neatsfoot y luego terminarlo a mano.
Solo utilizamos Saddletrees de madera con refuerzo de fibra de vidrio de 16 oz, hechos exclusivamente para nosotros.
Todos los accesorios de los sillines están hechos de acero inoxidable.
All Saddles with Bordertooling, Square Skirt or Classic Skirt
Soft Seat Seat Seat sizes 16.5 or 17"
incl. BackCinch
custom made
ab 3.990,00 € + Extras
Hard Seat 4490,00 + Extras



Für Fragen, for questions / por preguntas
Kontaktformular / E-Mail (Impressum)
Alexandra Schürmann & Shiney Bud

...more Infos Links

Theo Schürmann & Nu-Bar-Olena

Cutter Rough out Seat

Cutter Hard/Slick Seat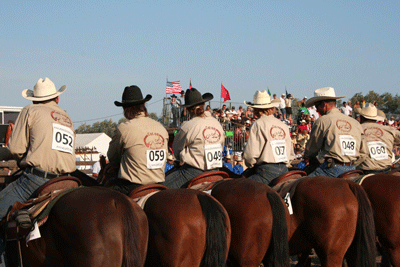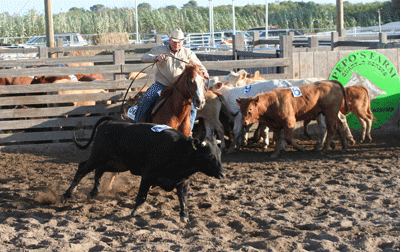 Pauls Cutter

für Paul Derrez, NL
entwickelt mit traditionellem Hard Seat,
Basket/BarbWire Tooling Mix,
Triple Horn®Kickbar Alu Oxbow Bügel
und Back Cinch

Paul Derrez Deutscher Meister 2010 in der Open

wurde der Niederländer Paul Derrez auf seinem Hengst Smartest Ninna Pep. Die beiden verteidigten damit erfolgreich ihren Titel von 2009 und setzten sich nicht nur in der NCHA Germany, sondern auch in der NCHA USA und AQHA Wertung an die Spitze. Zudem sicherte sich Derrez mit Seco Dinero auch noch den Reserve Champion Titel
***

Se convirtió el holandés Paul Derrez en su semental Smartest Ninna Pep. Los dos defendieron con éxito su título de 2009 y tomaron la delantera no solo en NCHA Alemania, sino también en NCHA USA y AQHA. Derrez también aseguró el título de Campeón de Reserva con Seco Diner
***

became the Dutchman Paul Derrez on his stallion Smartest Ninna Pep. The two successfully defended their 2009 title and took the lead not only in NCHA Germany, but also in the NCHA USA and AQHA rankings. Derrez also secured the Reserve Champion title with Seco Dinero

DQH Star Cutter
Professioneller Cutting Sattel speziell für Jürgen Döring
entwickelt im angesagten Texas Style Design
Soft Seat burgundy,
Basket/Star Border Tooling,
Komplett mit BackCinch

STAR-Cutter Hardseat

Sättel und Zubehör werden hier von uns von Hand gefertigt. Dabei verwenden wir grundsätzlich bei allen Sätteln
bestes Skirting Leder von spanischen Gerbereien.
Die meisten hier abgebildeten Sättel sind aus Kundenwünsche oder in Zusammenarbeit mit Trainern entstanden
und bieten einen guten Anhaltspunkt zur Preisgestaltung.
***
Saddles and accessories are made by hand. We always use the
best skirting leather from spanish tannerys.
Most of the saddles shown here are the result of customer requests or in cooperation with trainers
and provide a good guide to pricing.
***
Sillas de montar y accesorios son todos hechos por nosotros a mano. Siempre usamos con todas las sillas de montar
el mejor curtidos españoles.
La mayoría de los sillines que se muestran aquí son el resultado de solicitudes de los clientes o en cooperación con entrenadores
y proporcionar una buena guía de precios.
* alle Preise incl. IVA/all prices incl. TAX/todos los precios incluyen IVA.